What you need to know
At Workday, we care about your total health and wellbeing and support our Workmates to live and perform at their best. Wellbeing @ Workday is our global wellbeing program focused on the four pillars of wellbeing (physical, mental, emotional and financial) that was designed to help you prioritize your wellbeing and live your best life. We're here to help you prioritize your wellbeing and ensure you have access to the tools to bring your best self to work every day.
Workmates and their families will have access to curated programs and resources that support optimal health in all four pillars.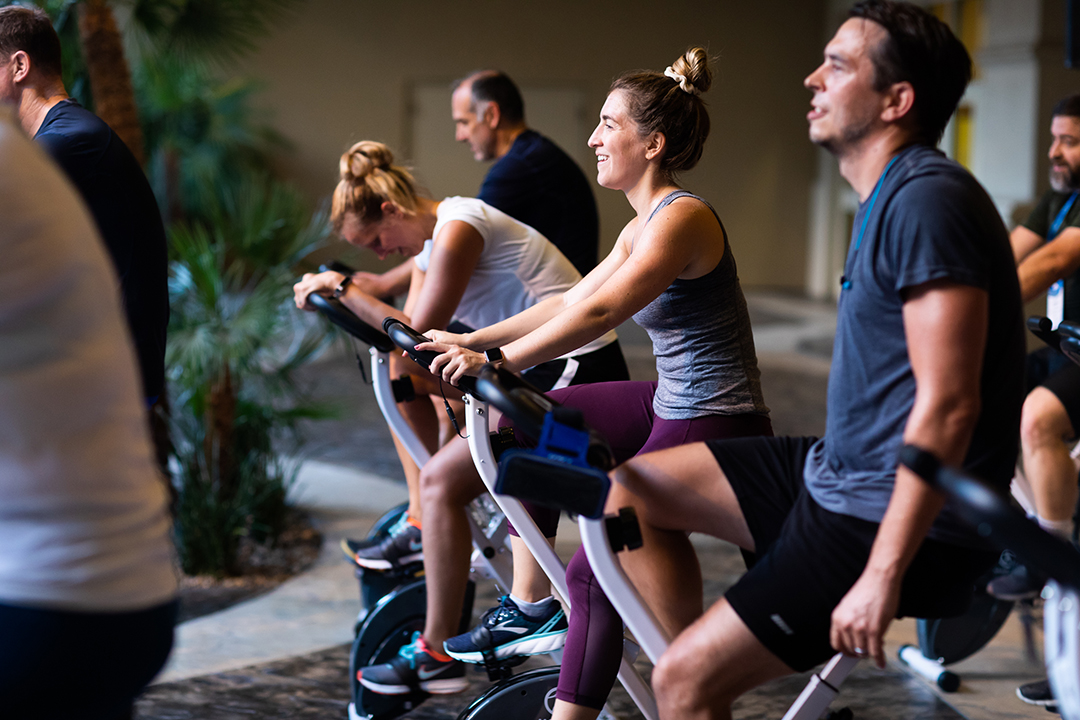 Working at being well

For such a fun company, we take wellbeing very seriously. Hear what your Workmates are saying about what it means to support holistic wellbeing at Workday.

Watch the video
Highlights
Wellbeing subsidy
Boost your health and your wealth. Get $50 a month to support not only your physical health, but your mental health, too. We're talking gym memberships, group fitness classes, fitness trackers, guided meditation apps, or even a yoga retreat to unwind and recharge. Here's more.
Fitness & Wellbeing Center
Whether you're a Pleasanton-based Workmate or visiting headquarters in need of a good gym, our Fitness & Wellbeing Center has plenty to offer, including cardio and weight equipment, and both virtual and in-person classes. Membership is required.
Location: The Fitness & Wellbeing Center is located on the Pleasanton campus, in building 6000, on the first floor.
Questions? Try #pls-fitness-center on Slack, or check out the Fitness & Wellbeing Center page.
Maven Menopause Support
Menopause is often a years-long journey, and symptoms can change over time. Maven Menopause is a specialized program to guide you through that journey.
After a guided intake process to understand your symptoms, you'll receive a personalized care team that includes an OB-GYN and a career coach. You can discuss your symptoms, learn new ways to manage, and get 24/7 access to Maven's resources and experts when you need a second opinion. Maven Menopause is available at no cost to you or your family members.
Want more information? Learn how Maven provides support and then check out this example for how you can integrate Maven into your own life.
Team wellbeing experiences
It's time to do something healthy together! You and your team can bond over mindfulness and fitness-focused outings, such as spin or yoga classes, a calming calligraphy course, or even a healthy cooking class. Our team has put together an extensive list of vendors to support your wellbeing whether in person or virtually! Take a look out our external vendors list and start planning your Team Wellbeing Experience today!
Peer Support Networks
Sometimes, we all need a little support. Peer Support Networks center around one core philosophy: Members have a shared experience that has caused hardship or difficulties and wish to serve as a support resource for, and to learn from, other members of the network. They offer a chance for Workmates to share resources or strategies that might be useful based on personal experience in a comfortable, informal setting. Learn more.
Wellbeing on Slack
Join Workmates from every corner of the globe in exploring all kinds of wellbeing topics on our #wellbeing Slack channel, from how to fuel your body and how to calm your mind, to our annual Wellbeing Week at Workday.
FYI
Learn something new every month
Nutrition. Mindfulness. Sleep. Gratitude. They're all super important to your health and happiness, and they're just some of the topics covered in our Wellbeing team's monthly programming. Keep your eyes peeled on #wellbeing Slack.