What you need to know
Happiness, health, movement, nutrition. They're the four pillars of our wellbeing philosophy. And they're our motivators for offering you lots of great wellness resources. We want you to keep feeling your best, in a way that works for you. And if you have some fun in the process, all the better.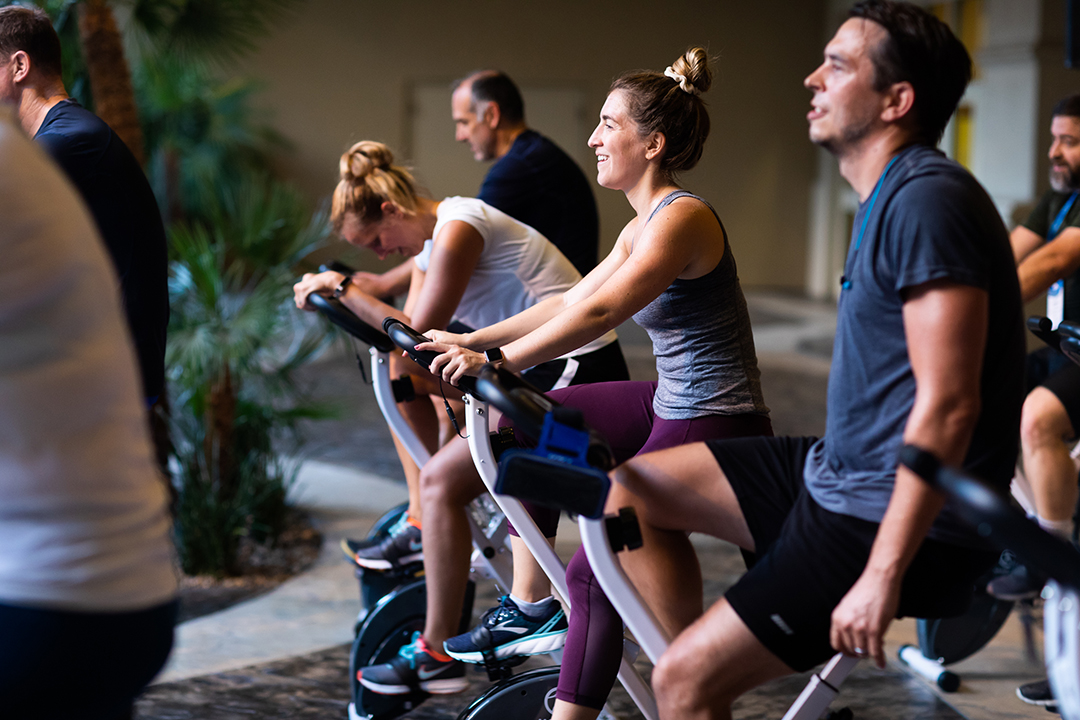 Working at being well

For such a fun company, we take wellbeing very seriously. Hear what your Workmates are saying about what it means to support holistic wellbeing at Workday.

Watch the video
Highlights
Wellbeing subsidy
Boost your health and your wealth. Get $50 a month to support not only your physical health, but your mental health, too. We're talking gym memberships, group fitness classes, fitness trackers, guided meditation apps, or even a yoga retreat to unwind and recharge. Here's more.
Cloud Care onsite health center
Workmates and covered family members can access same-day appointments and a range of health care services at Cloud Care in Pleasanton.
Fitness & Wellbeing Center
Whether you're a Pleasanton-based Workmate or visiting headquarters in need of a good gym, our Fitness & Wellbeing Center has plenty to offer, including cardio and weight equipment, and both virtual and in-person classes.
The center is open for virtual and outdoor classes and bookable gym time. Membership is required. Only vaccinated Workmates are permitted on campus, and proof of vaccination and Back-to-Office disclosure must be completed prior to visit. Masks are required indoors.
Location: The Fitness & Wellbeing Center is located on the Pleasanton campus, in building 6000, on the first floor.
Questions? Try #pls-fitness-center on Slack, or check out the Fitness & Wellbeing Center page.
Team wellbeing experiences
Groups of employees can request a team wellbeing experience. The best part? We'll do all the planning, so you and your team can bond over mindfulness and fitness-focused outings, such as spin or yoga classes, a calming calligraphy course, or a hike in the great outdoors. Ahhhh. Sign up today.
Peer Support Networks
Sometimes, we all need a little support. Peer Support Networks center around one core philosophy: Members have a shared experience that has caused hardship or difficulties and wish to serve as a support resource for, and to learn from, other members of the network. They offer a chance for Workmates to share resources or strategies that might be useful based on personal experience in a comfortable, informal setting. Learn more.
Wellbeing on Slack
Join Workmates from every corner of the globe in exploring all kinds of wellbeing topics on our #wellbeing Slack channel, from how to fuel your body and how to calm your mind, to our annual Wellbeing Week at Workday.
FYI
Learn something new every month
Nutrition. Mindfulness. Sleep. Gratitude. They're all super important to your health and happiness, and they're just some of the topics covered in our Wellbeing team's monthly programming. Keep your eyes peeled on #wellbeing Slack.